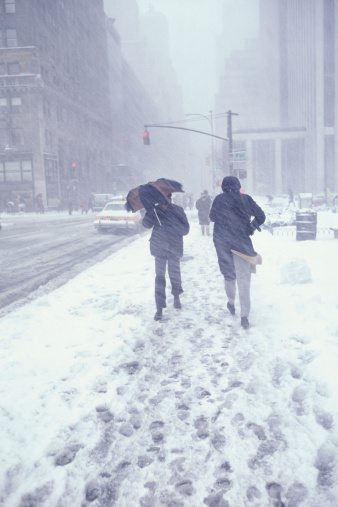 Those Who Planned Ahead Are Still Up and Running.
Americans in nearly half of the states in the U.S. are being forced to hibernate due to a polar vortex. A polar vortex is a circulation of strong, bitter-cold winds that typically surround the northern pole. This vortex has distorted and is dipping much farther south than normal, sending frigid air throughout the U.S. Temperatures are the coldest in over 20 years, and are breaking records. The polar vortex is also causing businesses and governments to close, and has caused power outages throughout a number of states.
However, some businesses were ready. — They planned ahead and set up online Remote Access to their data so employees could continue working from home.  The smart ones like the executives as advertising agency Lowe Campbell and Ewald have done this. They wrote an email to Crain's Detroit Business news saying:
"Most of us have the ability to work from home, so we suggested that would be a good option for today. Quite a few folks are doing just that."
Lessons Learned
It's essential that you plan ahead and set up Remote Access for your employees so they can work from home. Plus you should deploy a Business Continuity Plan so they can access data if the servers go down in your office.
Remote Access
Remote Access is a secure cloud-based system with file sharing that enables your employees to work from home when your office is closed. With a computer and Internet access in their home or wherever they are, your employees can continue to work, access business files, and stay connected to you and your customers.
Business Continuity 
In addition to Remote Access, your business needs a Business Continuity Plan to ensure:
Your IT stays up and running,
Data can be accessed from anywhere at anytime, and
It can be recovered in the event of a data loss or hardware damage.
With a Business Continuity Plan in place, your data is stored securely in an offsite location to ensure your employees can still access business data in the event of power outages and other disasters.
You must implement Remote Access and a Business Continuity Plan prior to a disaster.  
Plan ahead so your employees can work from home when they can't get into the office.  {company} can do this for you.  For more information call {phone} or email us at: {email}